movemanSKG Liftables; No Pit No Problem!
Introducing movemanSKG's new range of liftables! Suitable for warehouses, factories and other industrial applications, these robust units are hardwearing and withstand the rough treatment typical of such environments.
Gary Bound, one of movemanSKG's Sales Engineers, is positive; "These lifts are ideal for customers that need to move heavy goods, such as palletised stock or retail cages. They are freestanding and do not require a pit, eliminating time-consuming building work that comes at a high cost to companies under pressure to cut budgets. This is a major advantage that puts our liftables ahead of other leading models."
movemanSKG's liftables have a wide range of applications. Split-level units move loads from one floor to another. Other liftables are common in cargo bays to load and unload transit vehicles. In these cases movemanSKG provides drop down flaps that allow operators to wheel goods on and off trailers.
Liftables from movemanSKG use a scissor mechanism to move the platform. When the platform is in the raised position, safety systems such as galvanised mesh guarding or a roller blind safety curtain protect users from the lift's inner workings. Units travel to a height of 1600mm and carry payloads of up to 3,000kg (or up to 10,000kg if users opt for a pit). Various platform sizes are available.
Users can customise liftables with various accessories. These include gates, barrier arms, bridging lips, fixed or hinged ramps and wheel stops. movemanSKG provides professional advice and tailors units to suit individual customer requirements if necessary. It also offers a year-long guarantee on all its lifts, plus inclusive service visits in the first year of ownership.
Information
Article reference:
mm162
Date:
Feb-11
Hi-res picture
View a high resolution of the image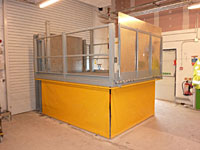 Other News Links
Previous article:
Next article: