movemanSKG Platform Lift the Preferred Choice!
Northwick Park Hospital contracted movemanSKG to install a Prima Plus platform lift in its Maxillofacial and Oral Surgery, which treats diseases affecting the face, jaw, mouth, teeth, neck, salivary glands and skin. The lift is in constant use and essential to the normal operation of the hospital.
The Maxillofacial and Oral Surgery at Northwick Park Hospital serves North West London, West Hertfordshire and South Berkshire. Over 1.7m people benefit from the service, which specialises in treating major facial injuries, facial deformities and cancers of the mouth, jaws, face and neck. The surgery has a team of experienced consultants who often perform life-changing operations.
"Like any hospital, Northwick Park must comply with the Disability Discrimination Act," comments Estates Manager Martin Kent. "We added an extra module to the Maxillofacial and Oral Surgery, which is accessible via a short flight of steps. Our new Prima Plus enables wheelchair users to overcome these independently."
Northwick Park required a lift that was both reliable and inexpensive to maintain. "We needed something hardwearing, durable, and capable of withstanding rough handling." continues Martin. "Prima Plus is rugged and operates reliably despite constant use. It meets and exceeds our requirements."
Northwick Park Hospital's Prima Plus has a blue finish and chrome handrails. It lifts 300kg and has a shallow ramp for wheelchair access, which folds up and acts a wheel stop when the platform is in motion. Prima Plus is a compact model suitable for applications where space is limited. It can even be relocated to a different site if necessary.
Information
Article reference:
mm160
Date:
Jan-11
Hi-res picture
View a high resolution of the image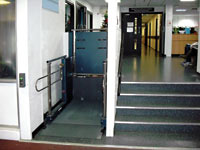 Other News Links
Previous article:
Next article: