movemanSKG Keeping Up Appearances!
movemanSKG recently visited landlord Preeti Mangat in swanky South Kensington, London. She had finished converting her building on Old Brompton Road into flats and needed a platform lift so wheelchair users could access the upper levels. movemanSKG installed Prestige, a unit suitable for a wide range of applications.
"South Kensington is a classy, attractive area of London so a property's aesthetics are of foremost importance, especially in the rental market where competition for tenants can be fierce," explains Preeti. "I renovated the building on Old Brompton Road to a very high standard; the new flats look stylish and contemporary. I needed a lift that would blend with its surroundings."
"Prestige has a customisable appearance and movemanSKG's quote was highly competitive, which swung the deal for me! I opted for a stainless steel finish and glass doors. The finished lift looks excellent and gives me an advantage over rental properties not equipped for disabled access."
Preeti Mangat's new Prestige is a four-stop unit and lifts up to 400kg. It has a spacious platform and simple, conveniently-located controls that allow wheelchair users to move independently between levels. Controlled acceleration and deceleration eliminates jolting at landings.
Preeti continued; "The service was absolutely first class. movemanSKG's Sales Engineer John Anderson is helpful, approachable and professional. He managed the whole project for me while I was in the United States, arranging external contractors while constantly keeping me in the loop. John went above and beyond the call of duty. I am very impressed!"
Information
Article reference:
mm159
Date:
Jan-11
Hi-res picture
View a high resolution of the image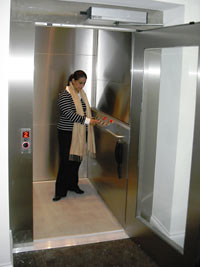 Other News Links
Previous article:
Next article: