Lifting Solution for Extreme Access Needs
movemanSKG's new platform lift, Companion Extreme, features a robust steel construction with a painted finish. This means it resists rust and withstands harsh weather conditions, even those typical of Scandinavian winters! Suitable for wheelchair users, the lift is perfect for companies with access needs.
Extreme is for external use only. It is freestanding, comes ready assembled, and does not require a pit, which minimises building requirements and associated costs. movemanSKG can install the unit in under a day and in all weather.
Gary Bound, one of movemanSKG's Sales Engineers, is delighted; "Extreme operates reliably in cold or wet conditions with minimal maintenance, making it ideal for use in locations prone to bad weather. Extreme is an excellent addition to our product range – I am already dealing with several enquiries!"
Extreme lifts 300kg up to two metres, and has a large 910 x 1400mm platform that accommodates a wheelchair comfortably. Users access the lift by means of a shallow ramp. Simple, ergonomically positioned controls allow independent operation. Options include a key isolation system to prevent misuse, galvanized finish, RAL colour choice, glazed gates and adjacent entry.
All movemanSKG's platform lifts incorporate a variety of safety features and Extreme is no exception. The gates lock automatically to prevent anybody opening them while the lift is in motion, and a pressure-sensitive plate detects objects or people under the platform and automatically checks its descent if necessary.
Information
Article reference:
mm138
Date:
Aug-09
Hi-res picture
View a high resolution of the image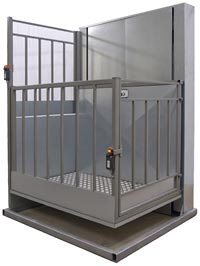 Other News Links
Previous article:
Next article: