Platform Lift a Cut Above the Rest
movemanSKG has installed a heavy-duty Titan goods lift at Flair Hair & Beauty Supplies' new store in North Dublin, Ireland. Used primarily to transport heavy stock between levels, it lifts up to 1000kg and features a spacious platform, enabling it to carry palletised loads plus an attendant.
Flair Hair & Beauty Supplies is Ireland's largest privately owned company in the Hair and Beauty Industry. It is a leading provider of professional hair and beauty equipment and products to beauty salons, hair salons and nail bars. Flair Hair & Beauty Supplies stocks over 8,000 product lines in its four Dublin and Galway based stores. These include signature brands such as GHD, Nexxus, ALFAPARF and L'Oreal.
John Donnellan, Managing Director at Flair Hair & Beauty Supplies, sees the lift as a valuable investment; "Titan cuts manual handling requirements at our new store, which means employees are less likely to suffer strain injuries at work. Safety is a top priority at Flair Hair & Beauty Supplies, so a goods lift is essential. Titan is a cost effective solution and meets our requirements."
Titan travels three metres between two floors at Flair Hair & Beauty's new store. It took just twelve hours to install, minimising disruption to work areas. The lift features user-friendly push-button controls that enable simple operation, and glass panels in the doors for visibility. Doors latch in the open position to simplify loading and unloading, and automatically lock while Titan is in motion for safety.
movemanSKG's Titan is popular with companies that need to move heavy loads. It is freestanding, requires no wall or supporting structure, and fits between existing floors to utilise space. This keeps building work to a minimum and makes for Titan's swift, easy integration into existing premises.
Information
Article reference:
mm125
Date:
Nov-08
Hi-res picture
View a high resolution of the image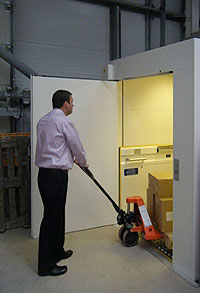 Other News Links
Previous article:
Next article: