movemanSKG Puts Another Foot Right!
A movemanSKG ISO-A dumb waiter lift is speeding up production and reducing manual handling requirements at Ken Hall Footwear's factory headquarters in Kettering, Northamptonshire. The company, which makes orthopaedic footwear for people with feet and leg problems, uses it to transport components between three floors throughout the various stages of manufacture.
Steve Allen, Ken Hall Footwear's Factory Manager, explains; "Our new dumb waiter replaces an old lift that was expensive to maintain. It has an essential role in our facility because it removes the need to carry heavy stock up and down stairs manually, reducing the risk of workers sustaining strain injuries. Dumb waiters are popular with pubs and restaurants to transport food, but this project shows they have industrial uses too."
Established over 40 years ago, Ken Hall Footwear is an authorised supplier to the National Health Service and a member of The British Healthcare Trade Association. Its orthopaedic products incorporate features such as rubber outsoles, padded collars and special cushioning. These help relieve foot-related symptoms of conditions like diabetes. Ken Hall Footwear offers shoes for adults and children alike, and a trial fitting service.
Ken Hall Footwear's three-stop ISO-A features a galvanised steel structure, which provides strength and stability. The lift travels over seven metres and transports loads of up to 100kg. It features arrival buzzers, position indicators on each landing station, and an overload protection system for safety.
Steve continued; "Our new lift is in constant use and stands up well to its rigorous workload. movemanSKG provided a complete service, from initial consultation, right through to planning and commissioning. The installation went like clockwork, allowing us to resume normal working conditions quickly."
Information
Article reference:
mm124
Date:
Oct-08
Hi-res picture
View a high resolution of the image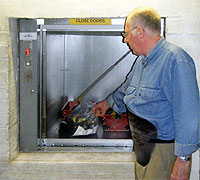 Other News Links
Previous article:
Next article: