Countryside Life for movemanSKG
movemanSKG has installed a Prestige platform lift at Carmarthen & Plumsaints Farmers' new £1.5m store in Crosshands, Wales. Branch Manager Ian Vaughan-Hughes is very pleased; "The platform lift allows wheelchair users to access the shop's upper floor, which stocks country clothes, work-wear and boots. It means less able customers have full use of the store and can browse our complete product range."
Established over 100 years ago, Carmarthen & Plumsaint Farmers is a rapidly growing business, with nine branches spread across Wales. It supplies a range of products to farmers, smallholders and the local community. These include tools and hardware, pet feed, equine and fencing. The company built the spacious Crosshands store to accommodate increasing customer demands.
The two-stop Prestige at Carmarthen & Plumsaint Farmers' Crosshands site travels nearly three metres between levels and features through entry, which means wheelchair users can enter and exit the lift without having to turn. A white laminate finish and glazing in the doors make it aesthetically pleasing, which is an essential requirement in a retail outlet like the Crosshands store.
Ian further commented; "The Prestige is an outstanding product and ideal for a retail environment. It functions reliably and users tell me they experience a pleasant, comfortable transition between levels. The lift also means our new store complies with the Disability Discrimination Act (DDA). I would recommend both movemanSKG and the Prestige to other retailers that have access issues."
Ideal for sites where appearances count, movemanSKG's Prestige comes in a variety of colours and finishes. It is robust, durable and lifts loads of up to 400kg. Doors lock automatically while the lift is in motion for safety, and rubber flooring keeps users from slipping.
Information
Article reference:
mm120
Date:
Aug-08
Hi-res picture
View a high resolution of the image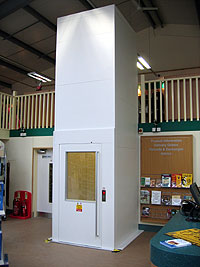 Other News Links
Previous article:
Next article: