movemanSKG Strikes a Bargain!
The Elsecar Antiques Centre, which hosts the BBC's infamous 'Bargain Hunt' television program, has installed a movemanSKG Prestige platform lift to allow less able and elderly visitors to reach the building's upper floor. With a cream finish and glazing in the doors, it matches the centre's prestigious appearance and makes the premises accessible to all.
Nestling in the conservation village of Elsecar and surrounded by the beautiful South Yorkshire countryside, the Elsecar Antiques Centre stages specialist auctions and collectibles fairs. It incorporates over one hundred independent dealers who sell a variety of antiquities, including fine china, furniture and coins. A listed tourist attraction, the Elsecar Antiques Centre is a rapidly expanding business and thanks to Bargain Hunt, its exhibitions get regular coverage on national television.
The two-stop Prestige at Elsecar Antiques Centre travels nearly three metres between floors. Floor mounted, it features fixed ramps that allow users to access the carriage from floor level. User friendly, vandal resistant control buttons permit wheelchair users to operate the lift independently. movemanSKG completed the installation in just days, minimising disruption to work areas.
Ian Wilson, Partner at Elsecar Antiques Centre, is delighted; "Obviously accessibility is important to us and we need to comply with the Disability Discrimination Act (DDA), but a large proportion of our customers are more mature, and some have difficulty climbing stairs. A platform lift was the obvious solution. The Prestige is excellent value for money and performs reliably, despite rigorous daily use. movemanSKG is professional and pleasant to deal with."
movemanSKG's Prestige is extremely popular. It lifts 400kg up to nine metres and features a spacious platform that accommodates a wheelchair user plus a carer. Options include alternative door styles, key isolation and/or operation, remote landing controls and a hands free intercom unit on the carriage. The Prestige comes with three inclusive service visits in the first year of ownership and complies with all building regulations.
Information
Article reference:
mm121
Date:
Sep-08
Hi-res picture
View a high resolution of the image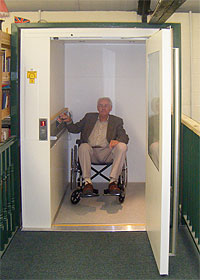 Other News Links
Previous article:
Next article: