Royal Treatment from movemanSKG
"movemanSKG's Excel platform lift means all students can enjoy a professional musical education and realise their talent," says Mike Mitchenall, Estates Manager at London's Royal College of Music. He continued; "We believe in equal opportunities and wish to comply with the Disability Discrimination Act (DDA). The lift allows wheelchair users to access the building from the street and performs reliably."
Founded in 1882 and located directly opposite the Royal Albert Hall, the Royal College of Music is one of the world's leading conservatoires, providing specialised training at the highest level for performers, conductors and composers. Over the years, some of Britain's most distinguished musicians have studied there, including Sir Charles Groves, a world-renowned conductor.
Located externally next to one of the college's entrances, the compact Excel fits in the tight available space. It has a smart, stainless steel appearance and glazed gates, which mean it blends into the surroundings without obscuring any of the original building features. This is essential as the Royal College of Music is listed and laws protect its historical integrity.
At the Royal College of Music, movemanSKG's two-stop Excel lifts up to 400kg 1.8m. Through entry configuration means wheelchair users do not have to turn to exit the lift, making it accessible and comfortable to ride in. The scissor mechanism, which raises and lowers the platform, is enclosed by a chain mesh for safety. Interlocking gates keep users secure while the lift is in motion.
Excel is robust, reliable and ideal for indoor or outdoor applications. The scissor mechanism rests in a shallow pit, which eliminates the need for lifting machinery or structure above the platform. This allows movemanSKG to customise the handrails and gates to suit any environment. Excel is available with varying platform sizes and comes with four inclusive service visits in the first year of ownership.
Information
Article reference:
mm119
Date:
Aug-08
Hi-res picture
View a high resolution of the image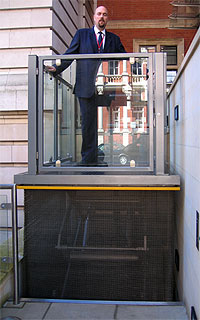 Other News Links
Previous article:
Next article: