movemanSKG Play the Part
movemanSKG has installed two Prestige platform lifts at BFI Southbank, the UK's leading repertory cinema in London. One serves the foyer from the main entrance hall. The other descends from the foyer to offices, education rooms and toilet facilities. Part of a major refurbishment, the lifts allow wheelchair users to access the building safely and independently.
Run by the British Film Institute (BFI) and located on the South Bank of the River Thames, BFI Southbank has four cinema screens and specialises in classic, independent and world cinema. It features a Film Store, bars, restaurants and a Mediatheque, where visitors can explore the BFI's archive and watch feature films, shorts and TV programmes free of charge. Disabled access is a top priority at BFI Southbank.
Duncan McKeich, Facilities Manager at BFI Southbank, explains; "According to the Disability Discrimination Act (DDA), our services must be accessible to less able visitors. Our Prestige platform lifts allow wheelchair users to move between levels easily, and have stainless steel cladding, which means they blend seamlessly into the building. They are of flawless design and perform reliably. movemanSKG has a reputation for providing quality products – one that is just deserved!"
Both Prestige lifts at BFI Southbank are two-stop and travel over two metres. They feature fully glazed doors and partially glazed shafts, making them aesthetically pleasing. User-friendly, ergonomically positioned controls enable simple operation. Both lifts have a generously sized platform that accommodates a wheelchair user plus one carer.
With a 400kg lifting capacity, the Prestige is the flagship of movemanSKG's platform lift range. It is ideal for indoor or outdoor applications and is available in a wide range of materials and finishes, including scuff resistant steel that comes in a range of colours and is suitable for painting.
Information
Article reference:
mm118
Date:
Jul-08
Hi-res picture
View a high resolution of the image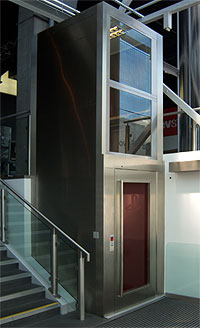 Other News Links
Previous article:
Next article: