Spirits On A High At Fat Sams
Dundee's glitzy nightclub, Fat Sams, incorporates a movemanSKG goods lift to transport heavy bar stock between levels. Angus Robb, Managing Director at Fat Sams, is delighted; "movemanSKG's lift cuts manual handling requirements at Fat Sams, benefiting staff. It means we can replenish stock quickly and efficiently. I would recommend movemanSKG to other potential buyers."
Dundee is a vibrant city in the heart of Scotland and Fat Sams is a much-loved part of its bustling nightlife. Open seven days a week, the nightclub spans over three floors, employs four DJs and caters for a diverse range of music tastes. Fat Sams regularly books famous bands, featuring groups such as Babyshambles and the legendary Franz Ferdinand. With such prestigious line-ups, the club is extremely popular and movemanSKG's goods lift helps ensure the seven bars do not run short of drinks.
The movemanSKG lift in use at Fat Sams is the ISO Max, a tough, hardwearing model with a lifting capacity of 500kg and hinged doors. It travels 2.05m from the cellar to the main bar area and has a galvanized self-supporting structure, eliminating the need for a shaft. With the nightclub being so busy, stock replenishment takes place daily. The lift handles this strenuous workload, performing reliably and exceeding Fat Sams' high expectations.
The ISO Max is a popular model from movemanSKG's goods lifts range. With a choice of lift capacities and car sizes, it tailors to suit almost any application. The ISO Max's shallow pit requirement keeps building work to a minimum and the lift's control panel features overload protection, ensuring safety.
Angus further commented; "The lift performs reliably under constant use, which is essential at Fat Sams. It performs a vital function in our busy nightclub and is an invaluable asset to the business. movemanSKG provided a rapid, professional installation and an outstanding service."
Information
Article reference:
mm099
Date:
Sep-07
Hi-res picture
View a high resolution of the image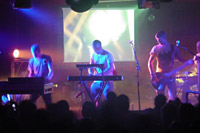 Other News Links
Previous article:
Next article: