Fairbridge Turn To movemanSKG
Fairbridge is a charity that provides personal support to young people in disadvantaged areas, giving them the motivation, confidence and skills they need to change their lives. It has fifteen centres across the UK, recently refurbishing its Dundee branch in Scotland. Fairbridge takes accessibility within its buildings very seriously, contracting movemanSKG to install a platform lift at the Dundee site.
Alex Cole-Hamilton, Policy Communications Manager at Fairbridge, is upbeat about the installation; "Our new lift looks grand in the building and means wheelchair users can access all parts of the building. We have received excellent value for money and are more than satisfied with the level of service we received."
Fairbridge's lift in Dundee is impressive. Its serves a five-story building and has four stops. The model is the Prestige, movemanSKG's most popular platform lift. It blends in with the building's surroundings and operates quietly, so as not to disturb workers. The platform is spacious enough to accommodate a wheelchair user comfortably, plus one carer.
The Prestige has a load capacity of 400kg and lifts up to nine metres. Tactile illuminated push buttons make it user friendly and the landing doors interlock mechanically with the controls for extra safety. The Prestige has a range of finishing materials and colours, making it aesthetically versatile. It comes with three inclusive service visits in the first year of ownership, a reflection on movemanSKG's dedication to customer care.
Alex continued; "Our new movemanSKG lift has improved wheelchair access at the Dundee site. We looked at several quotes and movemanSKG's came out top. The Prestige is robust and performs reliably, key issues in a public environment."
Information
Article reference:
mm098
Date:
Sep-07
Hi-res picture
View a high resolution of the image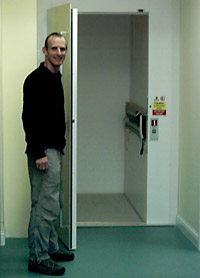 Other News Links
Previous article:
Next article: