Krazy Times In Liverpool
When busy nightclub Krazyhouse in Liverpool required a new goods lift, movemanSKG offered a solution that was a cut above the rest. Chris Morrison, Assistant Manager said "movemanSKG provided us with an excellent product, a swift installation and an outstanding after sales service."
Located in the heart of Liverpool, the Krazyhouse is one of the best established and diverse nightclubs in the city. It incorporates three separate dance floors, providing a range of music and entertainment to its hundreds of weekly visitors. The Krazyhouse plays host to only the best local DJ's and is one of the most popular venues in Liverpool. With a bar on each of its three floors, a goods lift is essential to make moving stock between levels safe and easy.
The requirements were for a hardwearing, durable lift that was capable of transporting heavy loads. The trendy Krazyhouse is open three nights of the week and gets extremely busy. Because of this the lift would be in almost constant use, so reliability was a key issue. After consulting the lift experts, the nightclub opted for the ISO-D service lift model from the movemanSKG range.
ISO-D is ideal for applications where heavier goods need to be loaded from floor level. This has made it a popular choice for pubs and nightclubs. With a lift capacity of up to 300kg, it features a solid counterweight steel frame and the option of single or double-hinged doors. Fully automatic push buttons and position indicators on each landing station come as standard, as does the twelve month warranty and free service visits in the first year. A robust, reliable product, it was just what the Krazyhouse was looking for.
Chris Morrison further commented: "The new goods lift from movemanSKG has reduced manual handling requirements in the Krazyhouse, benefiting our staff. It has also improved the speed and efficiency of our stock operations. movemanSKG were a pleasure to deal with!"
Information
Article reference:
mm090
Date:
Apr-07
Hi-res picture
View a high resolution of the image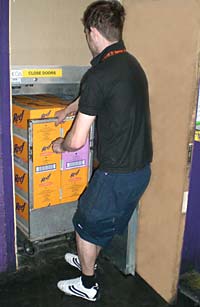 Other News Links
Previous article:
Next article: