movemanSKG Visits The River Esk Valley
The Samye Ling Temple of one of the ten most visited places in Scotland. Set in a picturesque valley on the banks of the river Esk, it is a centre for Buddhist teachings and attracts thousands of visitors a year. Disabled access is a must to ensure the comfort, safety and security of wheelchair users.
Last year the temple underwent renovation work to upgrade its disabled access facilities. Previously, a long ramp was the only way up to the temple for wheelchair users. Pushing a wheelchair up it proved time-consuming and exhausting. Time had come to install a platform lift to replace it. MovemanSKG is renowned for its high standard of service and products, and provided the solution.
The application was complicated. The lift needed to fit into an existing space that had tight dimensions. This required precision and expertise to get the job done properly. With over twenty years of being in the industry, movemanSKG had the skill, experience and technical knowledge necessary. After consideration, it was decided that the Prestige from movemanSKG's extensive range, was the most suitable for the application.
"The degree of service we received from movemanSKG was outstanding. The installation was completed quickly and efficiently. I would not hesitate to recommend movemanSKG or the Prestige lift to other potential buyers."
- George Briggs, Administration Manager of the Samye Ling Temple.
The Prestige is one of movemanSKG's most popular lifts. A dynamic, versatile edition to the range, it offers lift heights up to 9000mm. It has a load capacity of 400kg and is a completely self enclosed unit; it requires no wall or supporting structure. It features tactile illuminated push buttons for simple control and easy access. The Prestige is lit as standard and can be finished in a choice of styles to suit any environment.
Information
Article reference:
mm089
Date:
Apr-07
Hi-res picture
View a high resolution of the image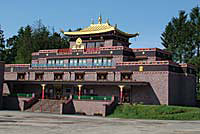 Other News Links
Previous article:
Next article: