movemanSKG Brews A Storm In Scotland
The West Brewing Company in Glasgow, Scotland, is the UK's newest and most exciting brewery. Incorporating a bar and restaurant, its reputation is flourishing as more and more pubs discover the superiority of its beers. The German 'Beer Purity Law' was established over 800 years ago and is a seal of exceptional quality and flavour. As the only UK brewer to adhere to it, the West Brewing Company uses only the simplest and purest of ingredients, ensuring fresh, tasty beers.
A goods lift was needed to transport stock and beer kegs between levels. With its competitive prices and hundreds of successfully installed service lifts to its name, movemanSKG was selected. David McKenzie, Production Director at the West Brewing Company said: "movemanSKG delivered a lift which suited our needs perfectly. We are a busy brewery, so reliability is a key issue. The lift is used daily and has proven to be an invaluable asset to the business."
The application demanded a robust, hardwearing lift that reduced the manual handling requirements of the brewery. With these specifications in mind, the West Brewing Company opted for Titan, a versatile and adaptable model from movemanSKG's extensive range.
A self contained unit, Titan requires no wall or supporting structure and has its own shaft, which ensures safety and load integrity. It has a load capacity of 1000kg and a lifting height of up to 9 metres. Titan features simple push button controls, making it easy to operate and user-friendly. Available with a wide choice of platform sizes and door options, it is configurable to suit a variety of goods only applications and building designs.
David McKenzie continued: "Titan has performed extremely well under rigorous working conditions. I would not hesitate to recommend movemanSKG to other potential buyers."
Information
Article reference:
mm088
Date:
Mar-07
Hi-res picture
View a high resolution of the image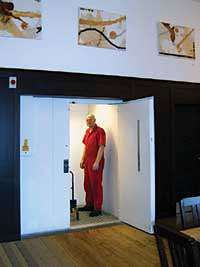 Other News Links
Previous article:
Next article: