Race To The Finish!
Haydock Park lies near St. Helens between Liverpool and Manchester, and is one of Britain's most famous race courses. Holding exciting flat and jump meetings throughout the year, it plays host to the Betfair Chase, a season highlight that attracts thousands of visitors. When a goods lift used for transporting stock from the cellar to one of the bars needed replacing, leading lift supplier movemanSKG got the call.
Stephen Mansfield, Operations Manager at Haydock Park said "We were very impressed with movemanSKG. The installation was performed quickly and efficiently and we were delivered a robust, reliable product. Good value ensured we were in the money!"
The various bars at the racecourse get very busy and must be stocked regularly to handle the large demand for refreshments. This means the lift will be subjected to a rigorous workload, so durability and reliability are essential. It also has to be capable of lifting heavy bar stock and be easy to operate.
movemanSKG recommended the ISO-D service lift from its extensive range. Solid design and construction makes the ISO-D tough and hardwearing. A lifting capacity of 300kg means it can handle heavy loads, so it was ideal for the Haydock Park application. ISO-D has a choice of either single or double hinged doors and its easy-access machine room allows simple maintenance. It also features user friendly controls for quick, straightforward operation.
Stephen continued; "movemanSKG performed above our expectations. The new lift means we can restock the bar quickly and effectively. An excellent all round service!"
Information
Article reference:
mm091
Date:
May-07
Hi-res picture
View a high resolution of the image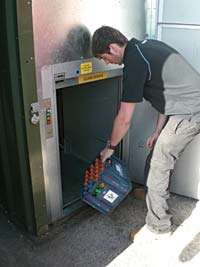 Other News Links
Previous article:
Next article: