Town Planning
movemanSKG is no stranger to large buildings, having installed its platform lifts at a number of universities, nightclubs, hotels and leisure centres. Nailsworth Town Hall however is a fine example of a smaller, but no less significant, platform lift installation.
The Cotswold town of Nailsworth in Gloucestershire is home to just 6000 people. The town hall, which dates back to 1860, is home to the town council offices, council chamber and town archive with some small business occupation. It is also a popular venue for live music, meetings and amateur dramatics.
New legislation surrounding disability meant that the hall had to provide disabled access for staff and visitors. An architect was employed to carry out a disabled access audit, and source a supplier of a platform lift. movemanSKG and its Companion Prestige model matched all the specifications. The lift, which was installed swiftly and without any problems, travels from the ground to the first floor and has a part glazed door at each landing.
Linda Meletiou, the Town Clerk commented, "Our town hall welcomes many people through its doors, many of whom need assistance in accessing the upper floor of the building. The new lift from movemanSKG has made life so much easier for elderly and less able people, and those with pushchairs."
To learn more about movemanSKG and its products visit www.movemanskg.co.uk
Information
Article reference:
mm074
Date:
Dec-05
Hi-res picture
View a high resolution of the image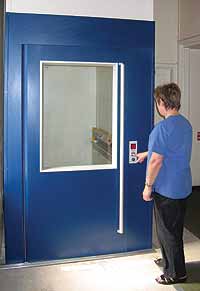 Other News Links
Previous article:
Next article: