movemanSKG Lift Keeps Local Authority Access In Line With DDA
Singleton Court in Monmouth, South Wales, has had a movemanskg platform lift installed, followed by an official opening by a local MP. This was to bring the building in line with Part III of the Disability Discrimination Act (DDA).
Part III of the Act, which came into play in 2004, states that service providers must make 'reasonable adjustments' to improve disabled access within their premises and to their services. Located within a business park, Singleton Court is used by a number of businesses, including the Local Health Authority, which occupies the first floor. To enable staff and members of the public to access all floors within the building, it was decided to invest in a platform lift.
A Companion Prestige platform lift was installed. It runs on a 240v single-phase power supply, and has a rated load of 400kg - enough for a wheelchair user and an attendant. An unusual feature of the lift is the toggle controls. These complement the standard buttons to operate the lift. This is so that people who have difficulty maintaining pressure on a button, perhaps because of problems with hand movement, can rest their hand on the toggle to control the lift.
Simon Berry-Jones, Director of Estuary Holdings Ltd, commented, "movemanSKG was recommended to us by an architect. They provided an excellent service and carried out a first class job to complete the lift installation in time. Singleton Court now complies with DDA regulations and the lift looks and works very well."
Following the lift installation, Singleton Court was officially opened by David Davies, MP in November 2005. For more information about movemanSKG and its full range of platform and service lifts, visit www.movemanskg.co.uk
Information
Article reference:
mm075
Date:
Jan-06
Hi-res picture
View a high resolution of the image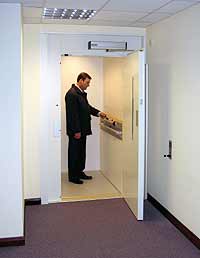 Other News Links
Previous article:
Next article: