moveman Improves Disabled Access At Popular Festival Venue
The Pleasance Theatre in Edinburgh is the most popular venue for the famous Fringe Festival. With over 225,000 visitors in 2004, it was essential that it was up to date with current DDA regulations in time for the 2005 celebrations. With this in mind, moveman installed three platform lifts in the building earlier this year.
Working to a very tight deadline, movemanSKG installed one Premier Plus lift and two Prestige models. The Premier lift is designed to accommodate a small change in floor levels, and has a lifting capacity of 150kgs. The Prestige can carry up to 400kgs, enough for a wheelchair user and an attendant. It is also Type Approved through the Local Authority National Type Approval Confederation (LANTAC), meaning that the lift is registered as complying with building regulations.
With many years experience of disabled access, movemanSKG turned what could have been a disastrous situation, into a positive outcome. The new lifts were successfully installed in time for the festival, which took place in August. Wheelchair users can now access virtually all areas of the theatre, and enjoy the performances, which include drama, music and comedy shows.
"movemanSKG pulled out all the stops to complete the lift installation ready for the festival, despite only being called in at very short notice", commented a spokesperson at Hutton and Read, the principal contractors who worked on the project. "They were professional and reliable at all stages of the project, and the platform lifts work efficiently. I would definitely use movemanSKG for future projects."
For more information about movemanSKG and its full range of products and services, visit www.movemanskg.co.uk.
Information
Article reference:
mm073
Date:
Nov-05
Hi-res picture
View a high resolution of the image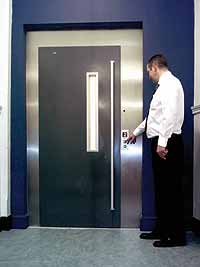 Other News Links
Previous article:
Next article: