moveman's Type Approved Lift Is A Popular Choice
It has been a year since moveman became the first supplier of platform lifts to have obtained Type Approval accreditation for one of its most popular products: the Companion Prestige lift. In this time, the company has installed an impressive number of these units for many different applications.
Type Approval is a method of registering designs that comply with building regulations. It is obtained through the Local Authority National Type Approval Confederation (LANTAC), the only organisation of its kind in the UK.
The Prestige lift was awarded the LANTAC certificate in October 2004. The certificate provides customers with reassurance that the lift has already gone through the rigorous checks required for public or commercial use. What's more, Type Approval allows them the peace of mind that the lift being installed in their building is Part M accredited.
A compact unit with integral shaft and landing doors, the Prestige is rated for a load of up to 400kgs, which is suitable for a wheelchair user and an accompanying attendant. Applications where the lift can be used are very diverse and in the last twelve months, moveman has supplied and installed units at sites as varied as Newmarket Race Course and Rothamsted, the largest agricultural research centre in the UK. moveman has also installed two lifts at the Pleasance Theatre in Edinburgh, in time for the Fringe Festival.
Boyd Porter, Sales Manager at moveman commented, "In 2004 we were delighted to receive the LANTAC accreditation for our Prestige lift. This, and the fact that the lift has proved to be such a popular choice for improving disability access in buildings, is proof as to why moveman is a leading supplier of platform lifts in the UK. Many thanks to all our employees who continue to work hard to deliver the desired results for our customers."
To find out more about moveman and its full range of products log on to www.moveman .co.uk.
Information
Article reference:
mm072
Date:
Oct-05
Hi-res picture
View a high resolution of the image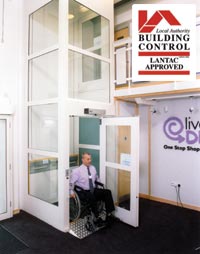 Other News Links
Previous article:
Next article: