moveman On The Big Screen
A night out at the cinema is a popular social activity for many people. However, a survey of cinemas and other leisure venues taken in 2004, showed that four out of five do not provide proper access for disabled people. movemanSKG is helping to increase the number of leisure providers with disability access, and has recently installed one of its platform lifts at the UGC Cinema in Southampton.
movemanSKG was asked to supply and install one of its Companion Supreme lifts as a replacement for an existing lift at the cinema. The new unit is a free-standing platform lift with a capacity of 400 kilograms - enough for a wheelchair user and attendant.
The lift is complete with its own enclosure, which prevents the possibility of anybody or anything becoming trapped underneath, or falling off the platform. Designed with a stylish white and silver finish to complement the modern surroundings of the cinema, the lift travels up a small flight of stairs within the building, and is easy to enter and exit.
For more information about movemanSKG and its full range of products visit www.movemanskg.co.uk
Information
Article reference:
mm068
Date:
Jun-05
Hi-res picture
View a high resolution of the image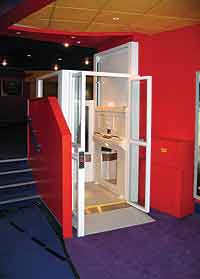 Other News Links
Previous article:
Next article: