You Can't Beat A moveman Platform Lift!
Police stations are a vital resource for the local community, so it is essential that they can be accessed by everyone. Limehouse Police Station in London is no exception, and has recently had a movemanSKG platform lift installed to bring it up to date with the Disability Discrimination Act regulations.
The 24-hour station, one of five in the Borough of Tower Hamlets, chose a Companion Excel lift from movemanSKG, in order to provide equal access to the main reception for disabled members of the public. The Companion Excel scissor mechanism platform lift is suitable for carrying wheelchairs both attended and unattended, from the pavement to the building entrance level.
Two key considerations when selecting the platform lift were firstly the external weather conditions, and secondly the aesthetics. The Companion Excel deals with both those considerations with a hot zinc weather resistant finish and a combination of laminated glass, steel and stainless steel to further enhance the lift components. The result is a reliable, effective lifting system, which compliments the impressive surroundings.
Tony Mistry, of Bryen and Langley Ltd, the building contractors for this project said, "the support and technical knowledge of the sales staff was impressive, and the lift was installed without any problems. All site deadlines were met and the company responded promptly to post-installation call-backs. I would recommend movemanSKG as a reliable platform lift supplier, and would definitely use them again."
For more information about movemanSKG and its full range of products and services, visit www.movemanskg.co.uk
Information
Article reference:
mm067
Date:
May-05
Hi-res picture
View a high resolution of the image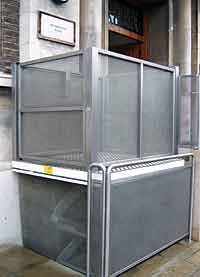 Other News Links
Previous article:
Next article: