moveman Installs Platform Lifts For International Charity
The Hospitaler Order of Saint John of God Charitable Trust provides a range of specialist services for disabled and disadvantaged people. movemanSKG has recently installed four platform lifts for the Trust, even managing to overcome the discovery of a WW2 bomb shelter under one site!
Having provided healthcare, social care and pastoral services for over 500 years, the Trust decided to invest in the platform lifts, to bring themselves in line with the revised DDA. The most recent installation was of two Companion Prestige lifts at the new 3 storey St John of God Residential Home in Thornton, Bradford.
The WW2 discovery delayed the project by 3 months, as the site had to be excavated and debris removed before any ground work could begin. The movemanSKG lifts were eventually installed and are in full working order, one travelling 2700m through 2 floors, the other 5215m through 3 floors. They are both fitted with automatic doors and a full height glass panel.
Tracey Ansell, Service Manager for the facility, takes up the story: "With 12 residents living in the new home, and all of them requiring assistance with walking, it was essential that we had platform lifts in the building. The architect chose movemanSKG as the supplier of the lifts, based on reputation and ability to meet technical specifications. We have been pleased with the products and the service movemanSKG has provided, and now our residents can access the upper floors of the building with ease."
For details on movemanSKG's full range of products log on to www.movemanskg.co.uk
Information
Article reference:
mm066
Date:
Apr-05
Hi-res picture
View a high resolution of the image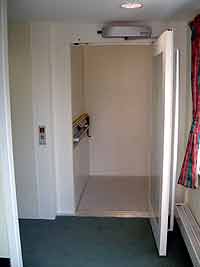 Other News Links
Previous article:
Next article: