Praise Be To moveman!
Weddings, coffee mornings and Sunday services - churches are a hive of activity for both religious and social occasions. But when accessibility for wheelchair users is poor, a place of worship and gathering is not as welcoming as it should be. This was the problem faced by the United Reformed Church in Loughborough, which was rectified with the help of platform lift supplier, movemanSKG.
The church, which dates back to 1908, had recognised for several years that a lift was required, but lack of funds meant that one was only recently installed. The new movemanSKG lift has a single side configuration, two glazed panels with a centre rail on both doors, and the doors are manually operated. Key holders have access to the lift so that it is always available for disabled people and others to use.
The congregation at the church was so thankful for the new lift that a special service was held to celebrate it. The Mayor of Charnwood, the U R C Synod Moderator and a representative from movemanSKG were amongst the guests at the official unveiling, which took place at the church in November 2004. The service was led by the Reverend David Featonby, which included a blessing, prayers, and the cutting of the ribbon by the Mayor Mike Jones and Mayoress Marge Jones.
Dennis Jolley, Project Coordinator for the platform lift installation at the church said, "Some less mobile members of our church had been unable to access the upper floor of the building for many years. The new platform lift, which has significantly improved access for the disabled as well as the senior generation and mothers with infants, has been gratefully received by the congregation. movemanSKG has been superb and we have been extremely pleased with the full process from order to completion. It was well worth the wait!"
For more information about movemanSKG and its full range of products visit www.movemanskg.co.uk
Information
Article reference:
mm065
Date:
Mar-05
Hi-res picture
View a high resolution of the image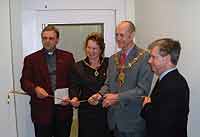 Other News Links
Previous article:
Next article: