moveman Installs Platform Lifts In A Flutter
Newmarket, on the Suffolk-Cambridgeshire border, has a long history with horse racing, and is home to two of the world's most expensive training grounds. The July Racecourse, known as the 'English Rose' of racing, now boasts two movemanSKG platform lifts among its top-class facilities.
The two lifts, both Companion Prestige models, serve 3 levels each. One of the lifts is situated in what used to be the Queen's rest room when she would visit a race. The other is in one of the main bars, providing access to the middle floor and the private boxes on the upper floor. Both lifts have a special key-controlled facility, so on race days they can be operated freely by the public. This is to ensure that people with mobility or access problems remain completely independent when travelling between levels. Outside the race season, the units are then switched to key operation only to prevent unauthorised use of the lifts.
EC Harris Consultants in Milton Keynes specified movemanSKG as the platform lift supplier for the July Racecourse. Darren Rice, Building Surveyor at EC Harris commented, "twelve platform lift suppliers were given the opportunity to tender for the contract. movemanSKG was shortlisted along with two other companies, and then won the contract based on their ability to meet all criteria, and a competitive quote. They have done an excellent job - the installation was problem free, the lifts work well and have been installed in time for the racing season."
Thanks to movemanSKG, not only will the July Racecourse be known for its modern image and high-calibre racing, but also for its excellent disabled access.
For more information about movemanSKG and its full range of products and services visit www.movemanskg.co.uk
Information
Article reference:
mm069
Date:
Jul-05
Hi-res picture
View a high resolution of the image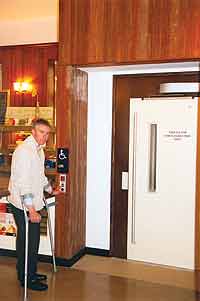 Other News Links
Previous article:
Next article: