Architects Firm Gives movemanSKG Thumbs Up
Liverpool John Moores University has installed a movemanSKG Supreme platform lift as part of a £1.3m ten month refurbishment converting a former student union building into a lecture theatre. Situated at the theatre's main entrance, the two-stop unit allows wheelchair users to gain access.
Weightman & Bullen, a local architects firm, managed the project. "The university's new lecture theatre needs to comply with the Equality Act but the main entrance area has limited space," comments Architect Mark Gotham. "There is no room for a ramp so a platform lift was the obvious choice. We consulted movemanSKG, which recommended Supreme."
Weightman & Bullen prides itself in providing architectural expertise and inspiration to enable its clients' building projects to exceed their aspirations - with user friendly support from initial appraisal and brief to occupation and final account.
"It is essential that involved parties work together harmoniously in order for building developments to be completed efficiently," continues Mark. "movemanSKG was highly attentive and provided an excellent service at all stages of the project, from initial advice and specification of the unit through to design and installation."
The university's new Supreme travels 1.25m and lifts 400kg. It is a hydraulic lift, which means it runs quietly without disturbing people. The unit features glazing in the doors and enclosure so it looks attractive in its surroundings. It is suitable for indoor or outdoor use and does not require a pit, which means customers can keep building work and related costs to a minimum.
Information
Article reference:
mm182
Date:
May-12
Hi-res picture
View a high resolution of the image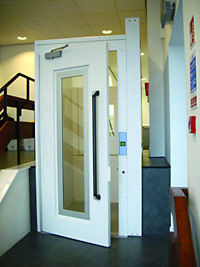 Other News Links
Previous article:
Next article: