movemanSKG's Prestige Wins LABC Registration
movemanSKG's popular platform lift, Prestige, has won LABC registration under the Local Authority Type Approval Confederation (LANTAC) agreement. What this means is that it has passed a series of stringent checks to ensure it complies with building regulations.
This speeds up the design and planning process by minimising the red tape developers have to negotiate when installing a unit, such as responding to building regulation queries by local authorities (in these circumstances LABC registration eliminates the need to provide the same information again and again to multiple queries).
Bill Blyghton, General Manager at movemanSKG, explains: "In the current economic climate the construction industry is suffering and the simple reality is that developers just don't have the funds to deal with expensive delays. Any way to streamline the costs of a project is warmly welcomed. Prestige has had LANTAC approval since 2004 and I am proud to announce the continuation of this under the LABC registration scheme."
Prestige features controlled acceleration and deceleration, which eliminate uncomfortable jolting. It has tactile, illuminated control buttons, self-closing doors, and position indicators on each landing. The unit has a range of safety features, including interlocking doors that prevent people entering the shaft while the platform is in motion, and a hand winding system in case of power failure. These make it perfect for scenarios where there are children present, such as schools.
Prestige comes in a variety of colours and finishes, making it suitable for a wide range of applications, indoor and outdoor. It comes with inclusive service visits in the first year of ownership and a standard guarantee.
Information
Article reference:
mm181
Date:
May-12
Hi-res picture
View a high resolution of the image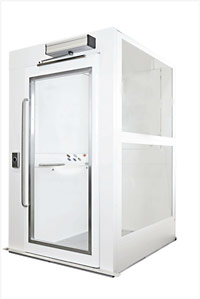 Other News Links
Previous article:
Next article: