Ramp Out, Platform Lift In!
Ramps are a cost effective means of making premises DDA compliant, but often have to stretch a long way to provide a slope gentle enough for wheelchair users to travel up independently. The space requirements make them inefficient for use in small buildings.
Ingrebourne Children's Centre in Romford has a raised reception that able-bodied people climb two steps to access. Originally, less able visitors used a ramp but the centre replaced it with a short-rise movemanSKG Prima Plus platform lift, freeing up enough space to build a partition wall and add an extra room to the premises.
"The centre is a popular community resource and gets extremely busy", explains Manager Helen Anfield. "We needed more space for meetings and group activities so the ramp had to go. movemanSKG understood our requirements perfectly and recommended Prima Plus. We are very happy with our new platform lift. It is useful not just to wheelchair users, but also parents who have trouble carrying pushchairs up the stairs."
Ingrebourne Children's Centre offers services to all families with young children aged under 5 years old, including health and family support services, childminder networks support, links to jobcentreplus and employment, and further training. Its new movemanSKG platform lift carries up to 300kg and looks superb in its surroundings.
Prima Plus is a compact unit with a 1450 x 900mm platform. It takes just a few hours to install and can be relocated to a different site if necessary. This is useful for sites that have changing access requirements, such as museums that run temporary exhibitions. Prima Plus has user-friendly, ergonomically positioned controls and an entry/exit ramp that automatically folds up to form a wheel stop when the lift is in motion. This also means the lift can be mounted on the floor without the need for a pit, making it easier to install.
Information
Article reference:
mm155
Date:
Oct-10
Hi-res picture
View a high resolution of the image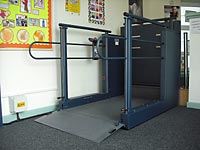 Other News Links
Previous article:
Next article: