Ayrshire County Council Turn to movemanSKG
Ardrossan Civic Centre in Ayrshire, on Scotland's Clyde coast, recently underwent refurbishment work, which included a movemanSKG Premier Plus stair lift and several access ramps. The improvements bring the centre into line with the Disability Discrimination Act (DDA) and allow it to accommodate visitors with mobility problems.
Owned by North Ayrshire Council, Ardrossan Civic Centre is a multi-purpose facility for community use. It has a range of accommodation and caters for social occasions – wedding receptions and parties, as well as playgroups, concerts, exhibitions and meetings of all manner of community groups.
Ardrossan Civic Centre's Premier Plus lift comprises a platform, which travels up a short flight of stairs on a wall-mounted track, allowing wheelchair users to access the main function room. When not in use, the platform folds up, leaving the stairway unobstructed for pedestrian use. The lift is fully automatic and features simple ergonomic controls, meaning less able visitors can operate it independently.
A spokesperson at North Ayrshire Council said; "movemanSKG's Premier plus lift addresses our access needs perfectly without blocking the stairway. It functions reliably and we are pleased with the result at Ardrossan Civic Centre."
The Premier Plus stair lift travels an inclined distance of nine metres and is for indoor or outdoor use. Ramps allow wheelchair users to access the platform and form wheel stops when the lift is in motion. These interlock with the drive mechanism for safety, inhibiting the lift's movement if not in the correct position. A safety plate fitted to the base of the platform stops the lift if there is an obstruction on the stairs.
Information
Article reference:
mm116
Date:
Jun-08
Hi-res picture
View a high resolution of the image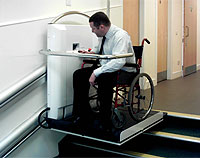 Other News Links
Previous article:
Next article: