movemanSKG Top of its Class
A movemanSKG Prestige platform lift is allowing wheelchair users to access Cosmopolitan Manchester, a striking new accommodation facility for the city's university students. Owned by Cosmopolitan Student Homes, Cosmopolitan Manchester opened last September and houses nearly six hundred students. Located externally in the buildings central courtyard, the lift allows less able students to move between levels.
Amit Pankhania, Property Manager at Cosmopolitan Student Homes, is delighted; "The new platform lift means Cosmopolitan Manchester is accessible to all and complies with the Disability Discrimination Act (DDA). It is reliable, easy to maintain and has a generously sized platform, which accommodates a wheelchair user plus one carer. We received a tailored, professional service from movemanSKG and the installation was hassle-free."
Conveniently positioned near the Manchester Metropolitan University and Manchester University, Cosmopolitan Manchester is part of a multi-million pound community regeneration project. It features a secure electronic entry system, internet access points in each room and CCTV for extra safety. It provides students with cost effective, comfortable accommodation.
The two-stop Prestige at Cosmopolitan Manchester travels nearly four metres and is a self-contained unit. It features a slanted roof and canopies above the doors that protect against bad weather. Finished handsomely in white, the lift blends with its surroundings and looks smart in the new building.
The Prestige platform lift is highly popular and suitable for a wide range of applications. It has a lifting capacity of 400kg and is LANTAC (Local Authority National Type Approval Confederation) approved, which means it complies with building standards. The Prestige features illuminated, user-friendly controls and is available in a variety of colours and materials, enabling its seamless integration into any environment. It comes with a twelve-month warranty and three inclusive service visits in the first year of ownership.
Information
Article reference:
mm109
Date:
Mar-08
Hi-res picture
View a high resolution of the image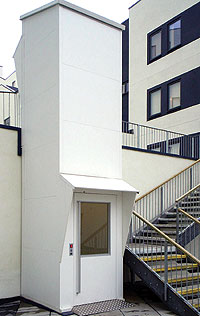 Other News Links
Previous article:
Next article: