movemanSKG Hits the Books!
The Earl Shilton Library in Leicestershire incorporates a movemanSKG platform lift, which allows less able visitors to move safely between levels. It is part of a £200,000 refurbishment, carried out by Leicester County Council to bring the community together and encourage people to use the library. The lift means the library complies with the Disability Discrimination Act (DDA).
Holly Porter, Library Development Worker, is very pleased; "As a service provider, the Earl Shilton Library has responsibilities under the DDA. We must take reasonable steps to tackle physical features that act as barrier to less able visitors. movemanSKG's Prestige ensures the library is accessible to all and looks handsome in its surroundings. The lift features tactile controls, which allow those with sensory impairments to operate it."
The Earl Shilton Library now has a reference area and an access centre on the upper floor, which offers a computer suite and training rooms. The Prestige serves the access centre from the ground floor, enabling wheelchair users to utilise the facilities. It travels nearly four metres and is finished smartly in blue, blending with the building's colour scheme. A key isolation switch behind the main reception desk protects the lift from improper use. Powered doors allow easy access and resist fire for up to an hour, increasing safety.
movemanSKG's Prestige is a freestanding platform lift that requires no support walls or unsightly structural steelwork. It is available in a variety of colours and materials, making it aesthetically pleasing and suitable for a wide range of applications. Controlled acceleration and deceleration mean no uncomfortable jolting at landings.
Holly continued; "The Prestige performs reliably and is an asset to the Earl Shilton Library. It complements a new floor plan and better access routes for wheelchair users, which means we can accommodate less able visitors."
Information
Article reference:
mm110
Date:
Mar-08
Hi-res picture
View a high resolution of the image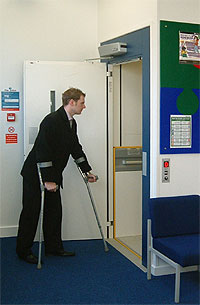 Other News Links
Previous article:
Next article: