movemanSKG Takes The Lead At Newmarket
Newmarket is the UK's historic home of horseracing and has two prestigious courses, the July Course and the Rowley Mile. The July Course hosts the illustrious Darley Cup during the summer months and attracts thousands of visitors each year. It recently opened new restaurant facilities, which incorporate two movemanSKG lifts - a Prestige and a custom built ISO-F service lift.
Opened by legendary jockeys Lester Piggott and Frankie Dettori, movemanSKG's Prestige allows less able visitors to access the two new restaurants - Mozart's Bistro and Stravinsky's. It travels nearly four metres and has a smart, stainless steel finish, blending with the plush surroundings. Featuring user-friendly controls, the lift has powered doors to aid independent wheelchair access. One of movemanSKG's most popular models, the Prestige lifts up to 400kg and has a large, comfortable platform.
John Johnson, Building Manager at the July Course, is delighted; "The platform lift means our restaurant facilities are accessible to all and helps us comply with the Disability Discrimination Act (DDA). The lift looks outstanding in its surroundings, which is essential because the racecourse is an up market public venue. We received excellent value for money."
The ISO-F serves Mozart's Bistro, and moves food and beverages from the storeroom to the restaurant. Custom-built, it has special shutter gates on the carriage and landing stations for extra safety. At peak times Mozart's Bistro gets extremely busy, which subjects the lift to a demanding workload. It performs reliably and lifts up to 300kg, transporting heavy stock between levels.
John continued; "Our new goods lift is robust and reliable. It reduces manual handling requirements and means we can cater efficiently for our visitors. movemanSKG understood our requirements and installed both lifts seamlessly and professionally."
Information
Article reference:
mm105
Date:
Dec-07
Hi-res picture
View a high resolution of the image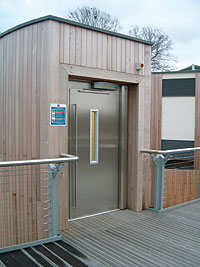 Other News Links
Previous article:
Next article: