moveman First For Type Approval
moveman is proud to announce that it is the first supplier of platform lifts to have obtained Type Approval accreditation for one of its most popular products: the Companion Prestige Lift. A method of registering designs that comply with building regulations, Type Approval is obtained through the Local Authority National Type Approval Confederation (LANTAC), the only organisation of its kind in the UK.
The LANTAC certificate is accepted by all local authorities in England and Wales. It provides customers with reassurance that the Prestige Lift has already gone through the rigorous checks required of lifts for public or commercial use. What's more, Type Approval allows them the peace of mind that the lift being installed in their building is Part M accredited.
The certificate is attached to the plans of the design, which are presented as normal at the initial stage of deciding on a supplier. This certificate, along with the approval logo can also be used to endorse promotional literature surrounding the product and where it is has been installed.
Continuously dedicated to supplying safe and accessible mobility products, moveman places significant importance on the needs of the customer. Becoming the first company in the industry to gain Type Approval for its Prestige Lift, is further proof as to why it is the UK's leading supplier of platform lifts.
To find out more about moveman and its full range of products log on to www.moveman .co.uk
Information
Article reference:
mm061
Date:
Oct-04
Hi-res picture
View a high resolution of the image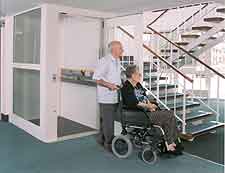 Other News Links
Previous article:
Next article: