Architects Specify moveman For Award Winning Theatre Restoration
Tod Allen Architects, which specified moveman for the installation of a platform lift at the Georgian Theatre in Richmond, has been nominated for awards following this massive restoration project.
The restoration of the Georgian Theatre Royal in Richmond has already picked up the Building Conservation award at the Royal Institution of Chartered Surveyors, and is set to scoop awards at the next ceremony, and at the Royal Institute of British Architects. The project included the construction of a new extension, providing a bar, toilets and access for disabled people, amongst other facilities.
moveman , the UK's leading supplier of platform lifts, was specified by Tod Allen Architecture, to supply and install a Companion Prestige Lift, which would improve accessibility for disabled theatre-goers, with the minimum amount of impact to the building. This was of the up-most importance, as the Georgian Theatre is considered to be the most important surviving provincial theatre in the history of English playhouse, so the building needed to remain authentic.
moveman is the first supplier of platform lifts to have obtained Type Approval for its Prestige lift. A method of registering designs that comply with building regulations, Type Approval is obtained through the Local Authority National Type Approval Confederation (LANTAC), and allows customers the peace of mind that the lift being installed in their building is Part M accredited.
The £1.5 million restoration of the theatre was a great success - the theatre still looks the same as when it was first built in 1788, and is now up to date with DDA regulations. For more information about moveman and its full range of products visit www.moveman .co.uk
Information
Article reference:
mm060
Date:
Oct-04
Hi-res picture
View a high resolution of the image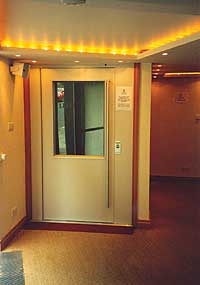 Other News Links
Previous article:
Next article: