Suits You Sir!
Moving to new premises is stressful enough for any business but with only two months until opening and you have been left with a hole in the ceiling where your platform lift should be then it is understandable if stress levels shoot off the scale!
This was the nightmare scenario for gentlemen's outfitters Blacks Menswear of Newcastle-under-Lyme who were moving to a re-furbished premises when their appointed lift manufacturer let them down with installing their lift for disabled people. But movemanSKG, the UK's leading supplier of platform lifts, stepped into the breach to supply a specially designed Prestige lift perfectly adapted to fit the dimensions of that of their competitor's so that it would fit snugly into the available space without the need for even more building work.
Malcolm Kirkham, Manager for Blacks Menswear, takes up the story: "movemanSKG were terrific when the original lift manufacturer failed to deliver. We had just a hole where the lift was to be installed and were faced with the possibility of either delaying opening or roping off the area, which was obviously not very satisfactory. movemanSKG worked with our architects to make sure that the lift fitted the space available and installed it in very quick time so that we could open on schedule."
The 5000sqft premises was completely re-furbished and customer friendly Blacks Menswear were keen to install a platform lift to provide their disabled customers easy access to their formal and hire wear located on the second floor. The Prestige lift is specifically designed for use by the less able and, with entrance via the short side at the lower level and exit via the long side on the upper floor, it was an ideal solution to compliance with the Disability Discrimination Act.
"We've been very impressed with the lift itself and also the service provided by movemanSKG" Malcolm continued. "One of our very first customers was from the Multiple Sclerosis Society and thought the lift was wonderful so we're very pleased that we didn't go with the original manufacturer in the end."
The Prestige lift is fully compliant with Part M of the UK Building Regulations and is CE marked as a declaration of conformity with the EC Machinery and Eletromagnetic compatibility (EMC) directives. This is a guarantee that the product is fit for the purpose for which it is sold and that reasonable precautions are taken to protect the user against injury.
Sounds like the Prestige lift suits everyone all round!
Information
Article reference:
mm058
Date:
Aug-04
Hi-res picture
View a high resolution of the image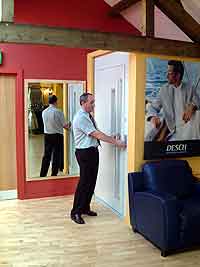 Other News Links
Previous article:
Next article: