Suits you sir: Fashion retailer opts for platform lift
A major fashion retailer selected a Prestige platform lift from movemanSKG for its brand new £1m outlet in Orpington. Overseeing the project was The Millbridge Group, which was established over 15 years ago and provides property, development and construction services to occupiers, investors and developers. It advises some of the highest profile retailers in the world, many of them leading UK brands.
movemanSKG was specified for the project because it is part of the world-renowned passenger lift specialist Otis. It recommended Prestige, a high-end platform lift suitable for a wide range of applications that has a customisable appearance.
Located back-of-house, the two-stop unit provides an access route for less able staff who wish to reach offices and storage areas on the building's first floor. Prestige is freestanding, which minimised the necessary building work and enabled movemanSKG's team to install the lift in just a few days.
"We were working to a very tight timescale," commented Phil Pearson, Director at The Millbridge Group. "We had to construct a mezzanine floor after Prestige went in and any delay would have seriously compromised the project. Fortunately, movemanSKG's installation team finished the unit ahead of schedule. The firm communicated itself clearly throughout the process and delivered. We were impressed."
Prestige carries a maximum of 400kg and travels to a height of 13m. It has a large, 1100 x 1500mm platform, space for a wheelchair user and an attendant, and features simple push-button controls at a convenient height for independent access.
Information
Article reference:
mm204
Date:
Dec-13
Hi-res picture
View a high resolution of the image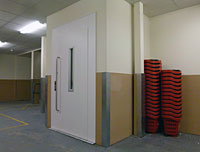 Other News Links
Previous article: