Goods Lift Close to Heart
The British Heart Foundation (BHF) recently opened a new Furniture and Electrical (F&E) Store in Leicester, which sells donated items to raise money for the nation's heart charity. A movemanSKG Titan goods lift allows F&E staff and volunteers to move heavy items from the basement stockroom to ground floor showrooms.
"As it can be difficult to move large furniture items up stairs, the goods lift is a welcome addition to our Leicester F&E Store." explains BHF F&E Area Manager Nigel Marston. "This means Titan is essential to the day to day operation of our store."
The BHF is the nation's heart charity, dedicated to saving lives through pioneering research, patient care, campaigning for change, and by providing vital information. It has nearly 600 UK stores that sell a variety of quality second hand and new goods. All funds raised go towards the fight against heart disease – still the UK's biggest killer.
The Leicester F&E store's Titan lifts 1000kg and travels 2.5 metres between the two landings. Its large platform accommodates large items of furniture, such as sofas and wardrobes. Bi-parting doors, which resist fire and incorporate vision panels for safety, allow workers to easily move goods in and out of the lift. The unit is freestanding and requires no wall or structure for support.
Nigel continued; "Our Leicester F&E Store has been open just over six months and is extremely busy. The Titan enables us to move stock quickly and easily to cope with the demands of such a busy retail environment. Titan is a robust, powerful goods lift that withstands its rigorous workload."
Information
Article reference:
mm134
Date:
May-09
Hi-res picture
View a high resolution of the image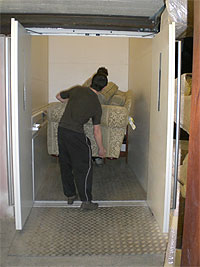 Other News Links
Previous article:
Next article: