Leeds Casino Hits Jackpot With movemanSKG Lift
The Gala Casino in Leeds is a popular venue for people of all abilities. With recent changes to the DDA, disabled access at the casino needed to be reviewed. To improve services for wheelchair users and people with impaired mobility, leading supplier movemanskg installed a platform lift in the building.
Ten slot machines and seventeen table games are located in the building. Some of the betting tables are in a raised area, and could not be accessed by people in wheelchairs. Following changes made in the law with regards to leisure providers and disability access, the casino decided to install a platform lift. This now takes users to the raised level, where games such as Blackjack and American Roulette can be enjoyed by everyone.
movemanskg has supplied lifts to other Gala venues so was the obvious choice with this latest application. For the Leeds venue, a Companion Supreme lift was specified. A free-standing unit, the lift has the capacity to carry 400kg – enough for a wheelchair user and an attendant, and travels 748mm.
Wilma Davidson, from Davidson+Company Interiors Limited was the design consultant who worked on the project. She commented, "We have used movemanskg lifts for previous Gala installations and were very impressed with the efficiency of the units. With this in mind we specified movemanskg again at Leeds and have been very pleased with the lift and the installation."To see how movemanSKG can find solutions to your business's disabled access needs, visit www.movemanskg.co.uk.
Information
Article reference:
mm077
Date:
Feb-06
Hi-res picture
View a high resolution of the image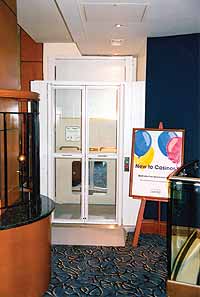 Other News Links
Previous article:
Next article: