moveman Rises Above The Rest At The University Of Wales!
The Christmas break is over and students are getting back into the swing of things. At the University of Wales, Swansea, students of all abilities are enjoying full access to the facilities on campus, thanks to wheelchair lift supplier, movemanSKG.
Founded in 1920, the University of Wales, Swansea has around 10,300 students studying a range of courses from American Studies to Zoology. At present, around 4 students at the university require the use of a wheelchair, and another 4 or 5 require assistance when walking. This number was enough to warrant the university investing in additional lifts to improve disabled access.
A Companion Supreme lift from movemanSKG was installed externally to offer access into The Glyndwr Building, used for lessons and other academic purposes. The Innovation Centre at the university also required disabled access. A Companion Prestige lift was installed to provide access to the first floor of the building, used primarily by small businesses. Both platform lifts are fully glazed for visibility, and have a 400kg capacity - enough for a wheelchair user and an attendant.
Derek Salisbury, Head of Maintenance, Estates Department at the university commented, "As part of our service we provide and maintain internal and external environments to support all areas of the university. With wheelchair users studying at the university, and with the revised DDA deadline in October last year, it was necessary to invest in platform lifts for some of the buildings. movemanSKG was chosen based on its competitive tender and the suitability of the lifts to meet the university's requirements. The installation of the lifts has improved access for less able-bodied students, enabling the university to carry out its activities more efficiently."
For more information about movemanSKG and its full range of products visit www.movemanskg.co.uk
Information
Article reference:
mm063
Date:
Jan-05
Hi-res picture
View a high resolution of the image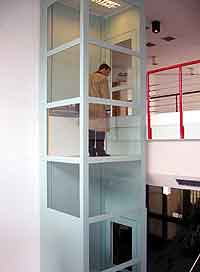 Other News Links
Previous article:
Next article: