Less is More
Specialist lift supplier movemanSKG has added a new miniature goods lift to its range. In response to customer demands the company developed a scaled down version of its popular Titan goods lift. Smaller it might be but the new lift is still capable of carrying up to 400kilograms and can accommodate a standard 1200 x 1000mm pallet.
MovemanSKG's general manager Bill Blyghton explains: "A number of our key customers asked us for a goods only lift that could lift loads of less than half a tonne to around 3 metres. This is a common requirement for example in Retail where mezzanine floors are used to provide more sales space."
Using their successful Titan goods lift as the starting point, movemanSKG produced a lift that suited the application precisely. The mini Titan has a lifting capacity of 400kg, with a maximum travel capability of 3.5 metres. This restricts it to working between a maximum of 2 or 3 levels. With a platform that is 1300mm wide and 1250 deep standard pallets can be handled easily. Bi-parting doors afford access to the lift, which can be arranged with entry and exit on the same side or through-car.
Bill explains further: "Having a minimal requirement for building work and only requiring single phase power means that the mini titan suits the retail market well. If shop layouts change then moving the lift is straightforward and costs little. Trials were successful and I am delighted to report that we have already taken orders for five units with the first one being installed as we speak."
Information
Article reference:
mm167
Date:
May-11
Hi-res picture
View a high resolution of the image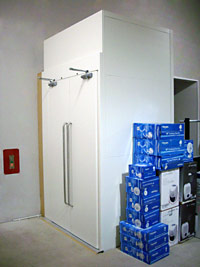 Other News Links
Previous article:
Next article: