Fitness Fanatic: Leisure Centre Gives movemanSKG Thumbs Up!
Hartham Leisure Centre's £1.7m refurbishment includes a new reception area and gym, dance studio and additional changing facilities. Fitness-conscious wheelchair users will be pleased to hear a movemanSKG Prestige platform lift makes the premises accessible.
The leisure centre, which also boasts two swimming pools, tennis courts and football pitches, is keen to encourage people to exercise. Steve Cox, General Manager, explains; "To keep fit and maintain a healthy standard of living people should participate in 30 minutes of moderate activity five times a week. We emphasise this using our brand, Everyone Active, a nationwide brand that incorporates leisure centres around the UK as well as our website."
"Exercising is not limited to the able-bodied. People with physical impairments form an important proportion of our customer base, and there is a huge range of activities and classes they can take part in. Making premises accessible to wheelchair users is essential, and a top priority at Hartham Leisure Centre."
The centre's Prestige is located in the new reception area and travels 3.35m to reach the first floor gym. It is a totally self-contained unit complete with its own enclosure and doors. This prevents anybody or anything becoming trapped under, or falling off the carriage. The doors are self closing for ease of use, and lock electrically and mechanically when the lift is in motion for safety. The lift has a variety of other safety features, including a hand winding system in case of power failure, a telephone handset and an alarm button on the carriage.
Steve continued; "Prestige is essential to the normal operation of our leisure centre and ensures we fulfil our obligations under the Disability Discrimination Act (DDA). During the refurbishment, movemanSKG installed the lift seamlessly while working around other contractors, and provided consistent, outstanding service – truly living up to its reputation as the UK's leading wheelchair lift supplier!"
Information
Article reference:
mm164
Date:
Mar-11
Hi-res picture
View a high resolution of the image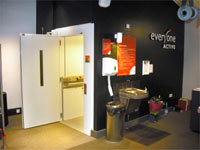 Other News Links
Previous article:
Next article: