New Machinery Directive Lifts Safety Levels
Good news for those with access requirements! The latest version of movemanSKG's Prestige platform lift is fully compliant with the new Machinery Directive, which came into force January 2010. It has also had a facelift, and benefits from a host of new features and options.
The Machinery Directive sets out the procedures that manufacturers must conform to with certain essential health and safety requirements (EHSRs). Machinery that complies with the Machinery Directive can carry the CE mark, which is mandatory in European countries.
Under the new Machinery Directive, suppliers must subject platform lifts to a series of stringent weight tests to prove they are safe for people to ride in. movemanSKG's product testing meets the requirements of the directive, earning the new Prestige its CE mark. The unit also features semi-automatic landing controls, another condition of the directive.
Like previous Prestige models, the new one lifts 400kg up to thirteen metres. It has a platform big enough to accommodate a wheelchair user plus a carer, and a range of safety devices. Now, Prestige comes with UPS (uninterruptible power supply) and a secondary emergency lowering device as standard. If there is power cut, users will be able to exit the lift safely at the closest landing.
Aesthetically the new Prestige is a stunning lift with all the usual refinements, including a customisable exterior and optional glazing in the doors and shaft. However, it now features a revamped control console and push buttons with Braille to aid those with visual impairments.
Like with all movemanSKG lifts, the new Prestige comes with inclusive service visits in the first year of ownership and a twelve month guarantee.
Information
Article reference:
mm148
Date:
Feb-10
Hi-res picture
View a high resolution of the image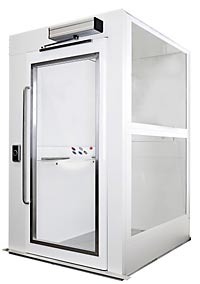 Other News Links
Previous article:
Next article: