movemanSKG Customer Receives Royal Visit
Opened last month by HRH The Duke of Edinburgh, Box Hill School's new music block cost £1.1m to build and offers pupils an extensive range of facilities, including professional recording studios. A movemanSKG Prestige platform lift ensures the block is accessible to wheelchair users.
Box Hill School is in Mickleham village surrounded by the Surrey countryside, and offers day and boarding places for 11-18 year olds. It recently celebrated its fiftieth Jubilee, which coincided with the new music block's opening ceremony. Box Hill School achieves outstanding exam results, and takes steps to ensure all students receive the same high level of education.
John Pratten, Bursar, explains; "As a place of education, Box Hill School has responsibilities under the Disability Discrimination Act (DDA), and we take this very seriously. The new music block has two storeys - six practice rooms and a classroom on the ground floor, and the recording studio plus recital and percussion rooms on the first floor."
Box Hill School's Prestige travels just over three metres between the two levels, and features an extended 1800 x 1100mm platform that comfortably accommodates a wheelchair user plus an accompanying teacher. A key operation system prevents unauthorised use of the lift.
Part of movemanSKG's wheelchair lift range, Prestige lifts 400kg up to thirteen metres. It has a range of safety features that make it ideal for use in schools, including doors that lock automatically to prevent people entering the shaft while the platform is in motion. Prestige is freestanding, which minimises building requirements and associated costs. It comes with three inclusive service visits in the first year of ownership.
Information
Article reference:
mm144
Date:
Dec-09
Hi-res picture
View a high resolution of the image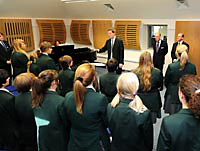 Other News Links
Previous article:
Next article: