movemanSKG First Choice for Interiors Specialist
movemanSKG has supplied a Prestige platform lift to interiors contractor Laings, which recently spent over £300,000 converting the ground floor of its premises in Inverurie, Aberdeenshire into additional showroom space. The lift ensures the company complies with the Disability Discrimination Act (DDA).
"Despite current economic conditions our business continues to prosper" says Kevin McIntosh, Laings' Installation Manager. "We originally used the ground floor of our Inverurie site for storage purposes, but converted it into showroom space to accommodate our growing product range. It is important that less mobile customers are able to move around the building independently."
Laings specialises in bathrooms, bedrooms, and kitchens. It stocks a vast range of products and offers a full design and installation service. People can take a trip round the company showrooms, and consult Laings' experienced designers for advice on furniture, appliances, lighting, colour schemes, wall coverings, and floors.
movemanSKG's Prestige travels three metres between the ground floor and the first floor. It carries up to 400kg and has a spacious 1500 x 1100mm platform that accommodates a wheelchair user plus a carer. The lift features fire doors that resist intense heat for up to one hour, and a cream finish that blends well with the surroundings.
Kevin further comments; "DDA compliance is essential for any company that provides services to the public. We selected movemanSKG because of its excellent reputation in the industry. Prestige is an ideal access solution, and means wheelchair users can view our complete product range. It functions reliably and took little time to install."
Information
Article reference:
mm143
Date:
Nov-09
Hi-res picture
View a high resolution of the image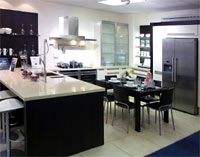 Other News Links
Previous article:
Next article: