Titanic Lift for Foster & Freeman
A heavy-duty Titan goods lift from movemanSKG allows Foster & Freeman to move heavy products from its upper level workshop to a ground floor shipping area. Foster & Freeman develops and manufactures scientific instruments for the police and forensic laboratories, which improve the quality of evidence acquired at crime scenes. It boasts a multi-million pound annual turnover and recently moved to bigger premises in Evesham.
Foster & Freeman supplies police forces around the world, as well as investigative agencies such as Customs & Excise, and immigration authorities. Its product range includes devices for enhancing and managing latent fingerprints, document verification scanners, and shoe print identification systems. These help police forces catch some of the most hardened criminals.
At Foster & Freeman's new Evesham site, Titan lifts loads weighing up to 1000kg four metres between the two floors. It allows the company to send goods out on time and keep up with growing customer demands. Titan reduces manual handling requirements and the risk of workers sustaining strain injuries known as musculoskeletal disorders (MSDs). MSDs often have crippling health implications and come at a high cost to businesses.
Rob Philips, Foster & Freeman's Project Manager, is impressed; "The timeframe for this project was very tight. Titan is freestanding and does not require a pit, minimising building requirements. movemanSKG installed it in just a few days, allowing us to resume normal business activities quickly. Titan gets frequent use at our facility and performs reliably. It is essential to the day-to-day operation of our company."
Foster & Freeman's Titan is not built in a pit, so operators access the lift by means of a shallow ramp. User-friendly controls make the lift simple to operate, and a heavy-duty steel construction provides strength and stability. Titan is a versatile, popular goods lift and suitable for a wide range of applications.
Information
Article reference:
mm131
Date:
Feb-09
Hi-res picture
View a high resolution of the image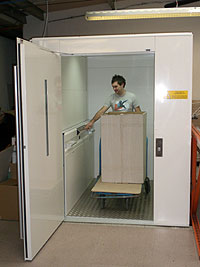 Other News Links
Previous article:
Next article: