movemanSKG Serves Scheff Foods a Lifting Solution
Scheff Foods' new £5m production facility in Birmingham features a movemanSKG Prestige platform lift, which allows wheelchair users to access the building's upper floor offices. It means the busy food manufacturer can accommodate less able employees, and complies with the Disability Discrimination Act (DDA) - an essential requirement in all workplaces.
Established in 1987, Scheff Foods makes high quality frozen ready meals and pastry buffet products for the food service industry. It supplies many major pub groups, top UK wholesalers, and independents. Scheff Foods is a vibrant, rapidly expanding company. It produces approximately 20,000 meals each day and has British Retail Consortium (BRC) accreditation. It built the new Birmingham production facility to handle growing customer demands.
Scheff Foods' Prestige platform lift travels nearly five metres between two levels. It has a load capacity of 400kg, and features fire-rated doors, which resist intense heat for up to one hour. Conveniently placed controls allow wheelchair users to operate the lift independently, and the doors automatically interlock with the drive mechanism, preventing anybody entering the shaft while the platform is in motion.
Rikki Chauhan, Director at Scheff Foods, is delighted; "Access for the less able is a top priority at Scheff Foods. Our Prestige platform lift operates reliably and fulfils our requirements. movemanSKG was pleasant to deal with and carried out the installation diligently and efficiently. I recommend the lift to potential buyers."
The freestanding Prestige requires no pit, minimising building expenses. It travels to a height of nine metres and incorporates its own electrical equipment, eliminating the need for a machine room or ugly cabinet. Prestige comes in a range of colours and finishes, making it versatile and suitable for a wide range of applications.
Information
Article reference:
mm130
Date:
Feb-09
Hi-res picture
View a high resolution of the image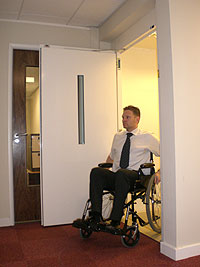 Other News Links
Previous article:
Next article: