Cambridgeshire County Council Accommodates Wheelchair Users
Thanks to a Prestige platform lift from movemanSKG, people with mobility problems can access Noble House, Cambridgeshire County Council's new office in Ely, Cambridgeshire. Noble House has around 70 employees who work to provide social care and learning support to people in the area. The lift allows wheelchair users to access the building's upper floors.
Noble House opened earlier this year and brings many of Cambridgeshire County Council's services under one roof. Chiefly an administrational building, it houses the East Cambridgeshire Area Social Care Team, and The Children's Locality Team for Ely, Littleport and Witchford. The East Cambridgeshire Additional Needs Team, which includes educational psychologists and specialist support teachers, is also based there.
Located next to a staircase in the Noble House reception area, Prestige travels nearly four metres between two floors. It features a cream finish, stainless steel fittings, and full glazing in the shaft and doors. The lift blends smartly with the building's plush interior and is one of movemanSKG's finest installations.
Karen Alsop, Business Support Manager for Cambridgeshire County Council, is pleased with movemanSKG's performance; "Our new Prestige platform lift took just days to install and satisfies our requirements and we are delighted with it. Access for all is a top priority at Cambridgeshire County Council, and as a workplace, Noble House must comply with the Disability Discrimination Act (DDA). The lift looks splendid in its surroundings and is comfortable for users to travel in."
movemanSKG's Prestige lifts 400kg up to nine metres and incorporates user-friendly controls positioned at a height convenient for wheelchair users. Controlled acceleration and deceleration provides a smooth, comfortable ride, and a self-contained shaft minimises building work. Available in a choice of finishes, Prestige is suitable for a wide range of applications.
Information
Article reference:
mm127
Date:
Dec-08
Hi-res picture
View a high resolution of the image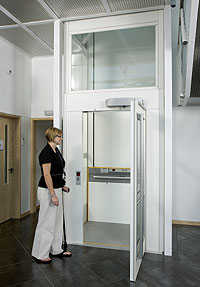 Other News Links
Previous article:
Next article: