Prestigious Solution for JYM
Thanks to a Prestige platform lift from movemanSKG, the Preston based JYM Partnership, a well-established architects firm, can now accommodate wheelchair users. The two-stop lift serves the upper floor from the foyer area in the company's prestigious new offices and means JYM complies with the Disability Discrimination Act (DDA).
JYM provides architectural, planning and surveying services. Recent projects include the Manchester Civil Justice Centre and Loughborough Magistrates Courts, where JYM was appointed project manager by Her Majesty's Court Service and the Land Registry office in Croydon. With business on the up and the company expanding, JYM relocated to larger offices in Preston. movemanSKG's Prestige platform lift makes the building accessible to all.
"movemanSKG's quote was highly competitive," explains Peter Hitchen, Architect at JYM. "As a place of work, the company has responsibilities under the DDA and a platform lift was the obvious solution. The Prestige suits our access needs perfectly, allowing less able customers and employees to move safely between levels. We received a professional service and movemanSKG completed the installation efficiently."
JYM's Prestige is a handsome unit. It features a fully glazed shaft, and has a white finish, which matches the surrounding staircase. Power operated doors open smoothly and automatically, allowing wheelchair users to access the platform easily. The lift travels over three metres between the two floors and incorporates tactile, illuminated controls that enable simple operation.
The Prestige's versatility makes it extremely popular. It is available is a range of finishes and colours, which enable its simple integration into any environment. The Prestige lifts 400kg up to 9000mm and is suitable for indoor or outdoor applications. Its recent Type Approval renewal from the Local National Type Approval Confederation (LANTAC) means it complies with building regulations.
Information
Article reference:
mm114
Date:
May-08
Hi-res picture
View a high resolution of the image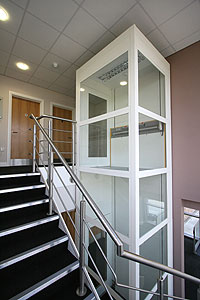 Other News Links
Previous article:
Next article: