Prestige Secures LANTAC Renewal
movemanSKG's Prestige platform lift has received Type Approval accreditation renewal from the Local Authority National Type Approval Confederation (LANTAC). Type Approval certifies a product has undergone stringent checks to ensure it complies with building regulations. movemanSKG's Prestige was the first platform lift to gain LANTAC Type Approval and is extremely popular, with hundreds of units installed nationwide.
Bill Blyghton, movemanSKG's General Manager, is very pleased; "LANTAC certification eliminates the need to provide local authorities with the same information over and over again in response to building regulation queries. This speeds up the planning and design process, making for an efficient, hassle-free installation – excellent news for customers with tight timeframes."
The Prestige lifts 400kg up to 9000mm. Its smart, contemporary appearance and range of colour and finishes allows it to blend seamlessly into any given environment. This makes it ideal for public venues, such as pubs, schools, museums and art galleries. An indoor or outdoor lift, it features a generously sized platform that accommodates a wheelchair user plus a carer.
Recently, movemanSKG has installed Prestige units at a number of prestigious locations including Newmarket Racecourse and Cosmopolitan Manchester, a striking new student accommodation facility. The lift is an ideal access solution and helps many businesses and organisations to comply with the Disability Discrimination Act (DDA).
Bill continued; "The LANTAC Type Approval strengthens the Prestige's reputation as being one of the best platform lifts available. First awarded in 2004, it assures movemanSKG's customers that the lift is suitable for public and commercial use. I am delighted to announce the LANTAC renewal and look forward to continuing success with the Prestige."
Information
Article reference:
mm113
Date:
May-08
Hi-res picture
View a high resolution of the image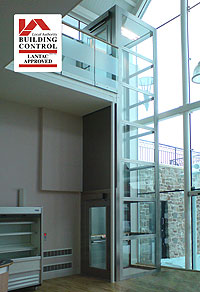 Other News Links
Previous article:
Next article: