movemanSKG the Primary Choice at Clarice Cliff!
Thanks to movemanSKG, the newly built Clarice Cliff Primary School in Stoke-on-Trent can accommodate disabled students. A Prestige platform lift in the reception area allows wheelchair users to access the building's upper floor and means the school complies with the Disability Discrimination Act (DDA).
Stoke-on-Trent Local Authority spent approximately £4.5m building Clarice Cliff Primary School, which opened in January. It amalgamates two local primary schools and has over 460 students. The school is part of Stoke-on-Trent City Council's initiative to improve student achievement and raise pupil aspirations. With movemanSKG's lift in operation, wheelchair users can access all parts of the building.
Clarice Cliff Primary School's Prestige lift has two stops and travels nearly four metres. Finished smartly in yellow and white with stainless steel fittings, it looks grand in the new premises. Tactile, illuminated controls positioned at a convenient height allow wheelchair users to operate the lift independently and the platform is spacious enough to carry a carer too if necessary.
Gill Latos, Head Teacher, is delighted; "The lift means that disabled students and staff at Clarice Cliff Primary School can access both floors. The lift is used daily, subjecting it to a demanding workload. It performs reliably and makes the building accessible to wheelchair users. The lift is simple to use and feels safe and substantial. I would recommend movemanSKG and the Prestige to other organisations that want to improve access levels."
With a range of finishes, movemanSKG's Prestige is configurable to suit most applications and requires no wall or supporting structure. It lifts 400kg up to 9000mm and is compliant with building regulations. It comes with a twelve-month warranty and three inclusive service visits in the first year of ownership.
Information
Article reference:
mm111
Date:
Apr-08
Hi-res picture
View a high resolution of the image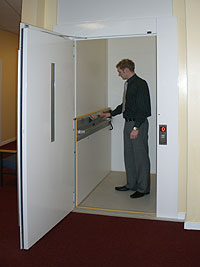 Other News Links
Previous article:
Next article: